Portuguese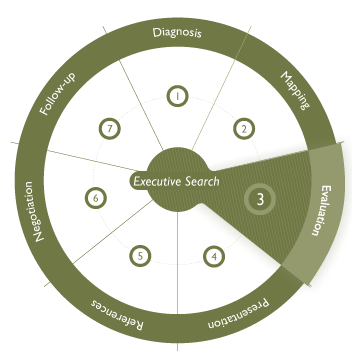 Assessment of Candidates.
Candidates Interview:
These interviews are always conducted personally by two consultants specifically allocated for this process, with the objective of enhancing the analysis and assessment of candidates, using different interviewing techniques:

1st interview: deep interview to analyze professional and personal track record, assessing technical abilities, professional experience, behavioral characteristics, among other relevant aspects for the position in question, identifying strengths and weaknesses;
2nd interview: competence interview; conducted in English when necessary;
Possibility of applying instruments (such as MBTI and Birkman) and other tests when necessary and according to client's request.
Obtaining prior references (third-party source), when possible, from professionals who can supply important information about potential candidates;
Provide feedback of the interviews for clients and candidates.
Result:
Selection of potential candidates to present to client.
Compartilhe:


Rua Gomes de Carvalho 892 cj. 51 Vila Olímpia 04547-003 São Paulo SP Brasil
+55 11 3845 8023